Overview
Some themes are formatted so that you use the featured image upload (see the right hand panel) to upload images to a particular area of your page or post – for example a header image. When you use the featured image upload your image will be automatically resized to fit that area.
You can however, also add images to your post or page content. These images sit within the page or post at whatever size and position you determine them to be (either before you upload them or after you have uploaded them).
To add an image:
From your WordPress Dashboard click on POSTS or PAGES
Put your cursor in the text box where you would like the image to appear
Click on the ADD MEDIA button (at the top of the text box) – this will launch the tool to allow you to upload Media
Either upload an image from your computer or select an image that already exists in your Media Library
If you are uploading an image, click the UPLOAD MEDIA and navigate to your image on your computer. Click the OPEN button.
Once the image has been uploaded, you can add a title, caption, alternative text (good for SEO) and description
Choose the alignment of the image (left, right, centre, none)
Choose where the image will link to – if you do not want site visitors to be able to click on the image – choose none
Choose the size of the image you want to display.
Once you have added your settings, click the INSERT INTO POST.
To adjust image size after upload:
If, after you have viewed the image on the page on your website, you would like to change the image size – do the following:
From your WordPress dashboard click on the POST or PAGE
Mouseover the image you want adjust and you will see the following icons appear: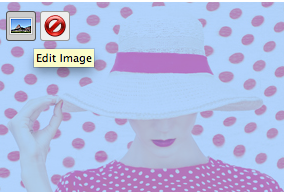 Click on the icon that looks like a picture
From here you will be able to change the size (by 100%, 90% etc), and also edit the alignment etc.
UPDATE